Swarovski Button Art 3015 Rivolli Crystal 14mm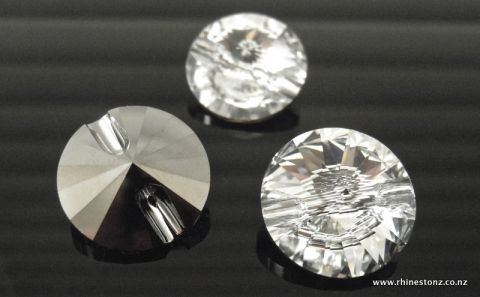 Swarovski buttons are world-renown for their clarity of cut, colour and brilliance. Beautiful crystals up close so the ultimate choice for exquisite home decor and upholstery. Excellent sparkle from a distance, so an excellent addition to any stage costume or red-carpet couture. Art 3015 has equal facets cut around the top surface of the crystal, all converging to a central point. The silver-grey backing on the underside of the button is what gives the crystal it's sparkle and 'bling' factor from the top.
Measurements 14mm diameter, 7.5mm depth
Colour Silver-foiled Crystal which looks like a facetted mirror
Material Machine cut crystal

Country of Origin Austria
Method of Application Although these can be sewn on with a standard cotton thread, in situations where wear and tear is expected, or where retail on-sell is required, we recommend sewing on with Fireline thread
Suitable for A wide variety of applications. Used for functional and decorative use in fashion (shirts, cuffs, jackets), special occasion and bridal accessories (such as clutches, train loops, ring pillows), embroidery, upholstery and to create soft furnishing embellishments, stage costumes (Irish Dance and Dancesport waistcoats, shirts and gowns), and jewellery and craft.
Pack Size Options Choose your pack size from the drop-down box below