Arabesque Sew-On Teardrop Art 3230 Aquamarine AB 12mm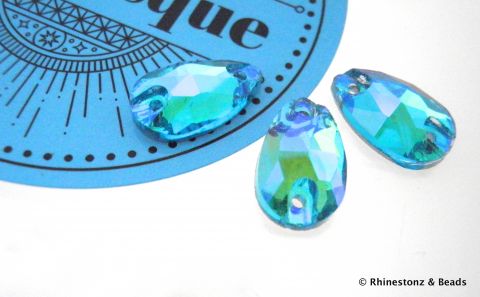 These Arabesque Sew-On jewels are a low cost option, with pleasing overall sparkle, cut and consistency of colour. While the sparkle en masse of Arabesque stones is a little less than the same quantity of Preciosa or Swarovski stones would offer, when mixed with Preciosa or Swarovski stones in high volume designs the overall effect is convincingly maintained.
Used in Dancesport, on ballet tutus, Irish Dance dresses and crowns, Bridal and special occasion wear, and accessories.
Measurements Length 12mm Width 7mm
Colour Description Aquamarine AB. An Aquamarine stone with the AB coating. A soft swimming pool aqua blue with extra golden and deep blue highlights.
Material Machine cut crystal
Country of Origin People's Republic of China
Method of Application Sew these using a good quality thread, or Fireline for the most professional appearance and ultimate strength
Pack Size Options Choose your pack size from the drop-down box below