Swarovski Non-Hotfix Marquise Art 2201 Emerald 14mm
Swarovski crystals are world-renown for their clarity of cut, colour and brilliance. Beautiful stones up close so the ultimate choice for couture occasions and bridal wear. Excellent sparkle from a distance. The Marquise is a very versatile classic shape.
Measurements 14mm Length x 6mm Width
Colour Description Emerald. A classic emerald green.
Material Machine cut crystal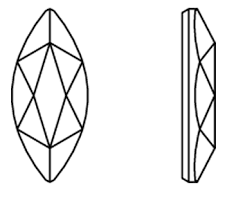 Country of Origin Austria
Method of Application Apply these with a suitable adhesive
Suitable for All applications including stage costumes, fashion, performance wear, craft, special occasion wear and accessories
Pack Size Options Choose your pack size from the drop-down box below