"STARTER PACK" Hotfix Tool & Crystals BEST SELLER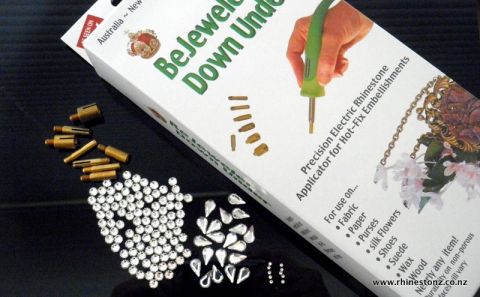 Goods valued at $79.90. STARTER PACK SPECIAL $65 !!
Preparations underway for your wedding, end of year function or school ball? Looking at decorating ideas for Christmas crafts? Wanting to have a go at adding crystals to your clothing and accessories? Looking for a gift for someone who has an interest in craft interest?
With this easy-to-use Hotfix Applicator Tool and these quality rhinestones, you have the greatest little starter pack to get you going!
100pcs x 5mm (ss20) Hotfix Crystal Rhinestones from Preciosa
20pcs x 10mm Hotfix Tear-Drop Crystals from Preciosa (can be put on using the ss34 tip attachment, or using an iron)
10pcs x 2.9mm (ss10) Hotfix Crystals from Swarovski
THE TOOL (normally $55)
For use in adhering Hotfix rhinestones to fabric, shoes, crafts, etc. The plug end is for NZ and Australia power outlets. The cord is 167cm long. Set includes the BeJeweller tool, instructions for use, Ss8, Ss10, Ss16, Ss20, Ss30 and Ss34 Tips, Nail Head Hot Spot and a stand for holding your BeJeweller tool while it is hot. You will be able to enjoy the use of your tool long after the ball has finished, with our superb selection of coloured Hotfix Crystals!
USING THE TOOL
Set your tool up with the ss20 tip screwed in, and the tool plugged into the wall socket. Place the end of the tip over a rhinestone, and allow the tip to gently fit over it. This should be enough to fit the stone snugly into the tip's concave end. As you hold it in the air, watch the glue on the underside of the stone begin to melt. When it looks well-melted like a simmer, but not too bubbly like a rapid boil, place the tip, with stone in it, onto the desired surface. The stone is ready to adhere to the surface by this stage, but if it stays in the tip, use a pin to pop it out, by inserting the pin into the slots on the sides of the tip. To avoid marking or burning the surface, lift the tip straightaway. Can be used with all fabrics, even nylons and chiffons (though this does require extra care and attention!). To adhere the teardrops, use the flathead tip and hold in place over the teardrop as it sits on the fabric. These instructions come with the package also.
THE CRYSTALS (normally $24.90)
Preciosa's beautiful Viva12 Hotfix crystals have 12 facets cut around the top of the stone. They have excellent sparkle, cut and colour up close and at a distance. They represent excellent value for money for such a world-class stone. Viva12 Hotfix have a grey backing. They are dry-cleanable and washable. Swarovski crystals are world-renown for their clarity of cut, colour and brilliance. Beautiful stones up close so the ultimate choice for couture occasions and bridal wear. Excellent sparkle from a distance.