Swarovski Rhodium PP24 Chaton Headpin BEST SELLER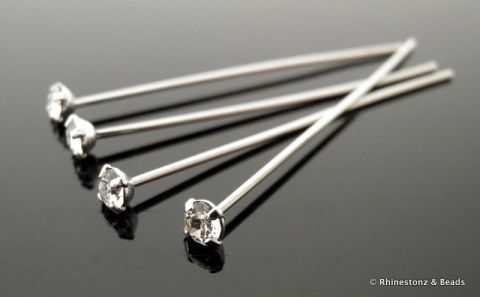 Headpins are used for stacking beads on, making a loop at the unheaded end, and using to create a dangle off another ringed finding such as an earring post or earwire hook.
'Rhodium, Anti-nickel allergenic' is a term used by Swarovski for their rhodium plated articles, such as their Chaton Head-Pins and claw-set pendants and stones.
These Swarovski Chaton Headpins have a diamante (chaton, aka pointback rhinestone) in the headed end, allowing an extra detailed feature to be seen at the bottom of your creation. The way that the diamante has been cupped into the end makes it the perfect fit for a diamante rondelle to encircle it before stacking beads up the length of the headpin.
Overall Measurements Entire length is 40mm. Length of the stackable area on the headpin is 37mm.
Chaton Crystal Size PP24 (3.00mm - 3.20mm tolerance)
Pin Thickness 21 gauge
Colour This is a natural polished silver and Crystal
Material Anti Nickel Allergenic with Rhodium Plating
Country of Origin Interestingly enough, these are actually made in the USA
Used For Any use a decorative headpin might be used for: earrings, attachments to pendants, hair accessories, etc.
Pack Size Options Choose your pack size from the drop-down box below