Arabesque Sew-On Leaf Art 3254 Crystal AB 20mm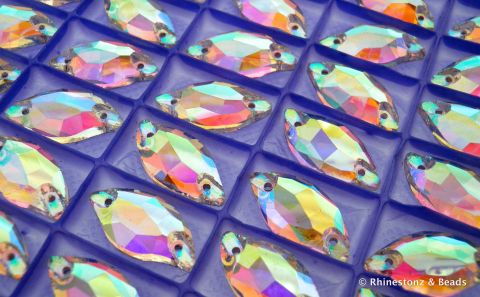 These Arabesque Sew-On jewels are a low cost option, with pleasing overall sparkle, cut and consistency of colour. While the sparkle en masse of Arabesque stones is a little less than the same quantity of Preciosa or Swarovski stones would offer, when mixed with Preciosa or Swarovski stones in high volume designs the overall effect is convincingly maintained.
Used in Dancesport, on ballet tutus, Irish Dance dresses and crowns, Bridal and special occasion wear, and accessories.
Measurements 9mm x 20mm
Colour Crystal AB. A Crystal jewel with silver foiling underneath and the famous Aurora Borealis coating on top, which gives hints of colour, like the colours seen on the surface of bubbles.
Material Machine cut crystal

Country of Origin People's Republic of China
Method of Application Sew these using a good quality thread, or Fireline for the most professional appearance and ultimate strength
Pack Size Options Choose your pack size from the drop-down box below