Swarovski Transfer "Fans" Crystal AB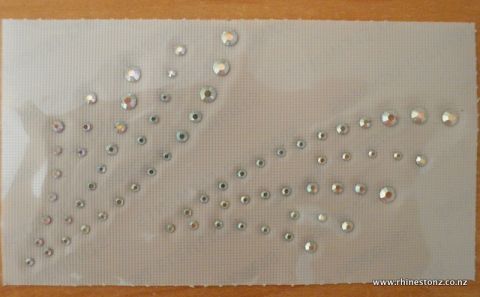 Swarovski produce a fabulous range of professional quality hotfix (iron-on) transfers that are durable, washable, dry-cleanable, able to be put in the drier, and supremely wearable and long-lasting. The hotfix technology of Swarovski Hotfix Transfer designs is second-to-none. Ideal for clothing (t-shirts, jeans, jackets, leotards, dance attire, stage costumes) an accessories. All you need is a domestic iron or a heat press for fast, simple, effective embellishing in minutes!
Instructions Simply peel the white transfer paper backing off, and place the slightly adhesive clear layer with stone design (which will remain attached to the clear layer due to the slight adhesive quality of the clear layer) on your fabric. Heat your iron to a nice hot dry setting, and place your it on top of the clear layer. To further protect your iron, if the stones are large and bumpy, you can successfully iron through a layer of cotton or similar if it is placed on top of the clear layer.
Quantity 'Each' is a pair of 'fans' as per photo
Measurements 7.5cm x 3cm each fan
Colour Crystal AB. Crystal rhinestones with foiling underneath and the famous Aurora Borealis coating on top, which gives hints of colour, like the colours seen on the surface of bubbles.
Material Machine cut crystal
Country of Origin Austria
Helpful Hint As these are symmetrical, they're ideal for cutting and using one fan on one collar/lapel, and the other fan on the other side
Suitable for All applications including stage costumes, fashion, performance wear, craft, special occasion wear and accessories
Pack Size Options Choose your pack size from the drop-down box below