NEW! Arabesque Hotfix 12cut Purple Velvet ss20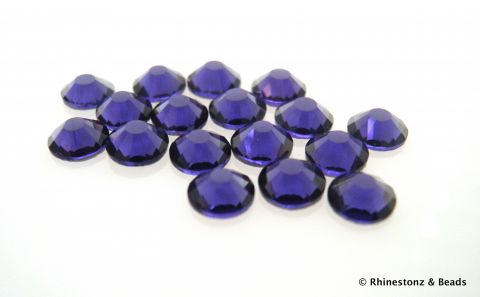 These Arabesque Hotfix Flatbacks have 12 facets cut around the top surface of each stone. Considering they are a low cost option, we've been very pleased with their overall sparkle, cut and consistency of colour. While the sparkle en masse of Arabesque stones is a little less than the same quantity of Preciosa or Swarovski stones would offer, when mixed with Preciosa or Swarovski stones in high volume designs the overall effect is convincingly maintained.
Measurements ss20 (tolerance of 4.60mm - 4.80mm)
Colour Purple Velvet. A dark purple.
Material Machine cut crystal

Country of Origin People's Republic of China
Method of Application Apply these with an iron, a heat press or a Hotfix Applicator Tool, or even with a suitable adhesive
Suitable for All applications including stage costumes, fashion, performance wear, craft, special occasion wear and accessories
Pack Size Options Choose your pack size from the drop-down box below