Stainless Steel Triangle Bails 10mm x 13mm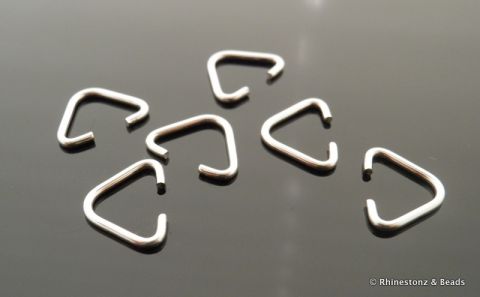 Bails (bales) usually have prongs, which are designed to be inserted into pre-drilled pendants (focals) which then enables the pendant or focal to be able to be used in hanging designs such as necklace, tiara and earring designs.
Stainless steel is designed for strength and durability, and is especially suited to outdoor situations as it is the most resistant to corrosion. Nickel is a key element present in the alloy which helps provide this feature. Most stainless steel contains between 8% - 12% nickel (the higher the grade, on average the higher the nickel content). Technically, stainless steel can qualify as hypoallergenic (meaning: low risk of causing an allergic reaction), as although nickel is one of the most common causes of allergic reactions from jewellery, it is bonded to other elements in the alloy and generally won't leech on to the skin, however many people have a skin reaction to nickel, so although technically stainless steel is hypo-allergenic, for extra sensitive skins sometimes it may not be.
These Pinch Bails are suited to outdoor use, so can be used with Crystal Prisms for outdoor situations.
Overall Measurements 10mm long, 13mm wide (default, open measurements), 19 gauge (1mm thick wire)
Prong Measurements 3.5mm length each prong
Colour Silver
Material Stainless Steel
Country of Origin People's Republic of China
Pack Size Options Choose your pack size from the drop-down box below