Swarovski Elegant Teardrop Art 6100 Crystal AB 24mm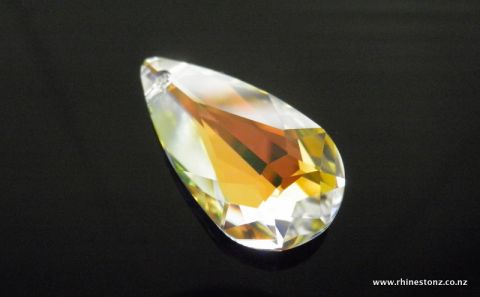 Swarovski Elegant Teardrop Pendants are some of the most beautifully shaped teardrops around. Elegant, subtle, classic. Really stunning as earrings and as necklace pendants for that special piece. Simply add a bail to the top to make it into an instantly attachable crystal dropper. Attach to a beautiful pair of earring findings and the effect is simply stunning.
Measurements Length 24mm Front Facing Width 12mm Side Width 6.5mm
Colour Crystal AB. A clear crystal, with no silver foiling on the underside/back (so see-through) but with the AB coating on one side. Hang the pendant one way to have the AB coating showing (which is quite golden), or the other way to have the effects of the AB coating coming through the crystal, making a soft and very interesting effect of different colours. On skin as a pendant, generally looks quite golden yellow. As an earring it generally looks much softer and 'whiter'.
Material Machine cut crystal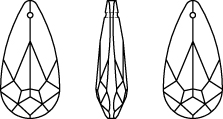 Country of Origin Austria
Hole Configuration One pre-drilled top hole front to back
Inside Hole Diameter 1.50mm
Use with Findings such as bails and rings and earwires or earring posts
Pack Size Options Choose your pack size from the drop down box below