DIY Hotfix (Iron-On Design) Transfer Paper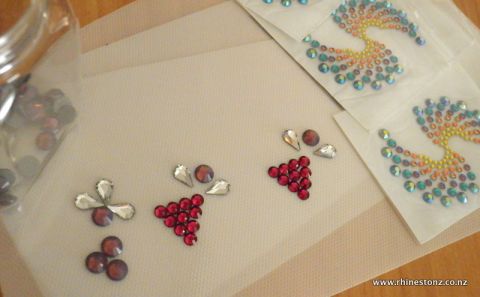 Want to make your own hotfix transfer designs? Now you can, with this hotfix silicone 'paper' (or heat-proof sheeting as we also know it) where it as easy as 1.2.3!
The sheeting is 24cm wide, and you can choose from the length you require from the drop-down box below. (Stones in the photo are not included! These are examples of use only!)
It's comprised of a white layer, which is non-stick, and clear layer which is silicone, sticky on one side, and heat resistant so able to be ironed or put under a heat press. The two layers peel away from eachother, exposing the sticky side of the clear layer. It is this sticky side that your stones will briefly adhere to, held in place by the stickyness, until you're ready to iron them down.
Instructions for Use Find a design you love from a picture or printout, or free-hand your way to a bespoke design! If it's a printout, tape it to a flat surface you can work on. Now cut your DIY HOTFIX TRANSFER SHEETING to size. Peel off the white (non-stick) layer. Place the clear layer, sticky side up, on the printout. You could tape it to the table also, so as to minimise movement.
Using a sticky blob of blu-tac moulded onto the end of a pencil, pick up your stones and place them, topside down (so you're looking at the underside of the stone), on the sticky clear layer. Fill out the design you're making and take care to place evenly and neatly. Once completed, you're ready to iron!
Prepare your garment and iron. A nice hot, dry iron setting will work well. Should you wish to protect your garment from any glue going through to other layers, try to iron on one layer only, otherwise, protect it with wax paper or baking paper. Place the transfer you've created, onto the garment, pretty side up, sticky side down:)
Iron by simply holding the iron in place on the clear layer, not too long, and you can test as you go. (Remember to protect your fabric at the edges of the clear layer if your fabric doesn't like direct contact with an iron!).
Lift your iron and gently peel the clear layer back from a stone or few, testing to see if adhesion has taken place. If they're not adhered, iron again until they are.
Once all adhered, leave to cool. Take care not to iron again for long periods at a time after they are adhered, as that will re-activate the glue. Peel the sticky layer off gently, and voila! A bespoke crystal creation, ready to wear!
Both Swarovski and Preciosa Hotfix Crystals are machine washable and dry-cleanable. However, to give ultimate protection to your crystals during washing and drying, place them in a soft washing bag if possible.