Silver Plated Bail with 5.25mm Loop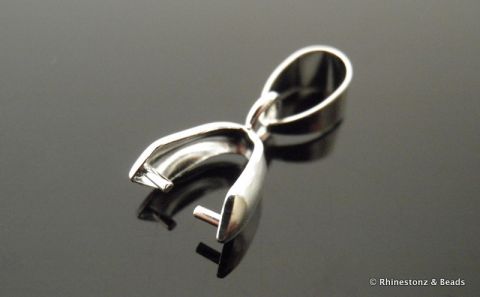 Bails (bales) usually have prongs, which are designed to be inserted into pre-drilled pendants (focals) which then enables the pendant or focal to be able to be used in necklace, tiara and earring designs. Silver-plate is the term used to describe any product that is made of base metal and that has been plated with a layer of silver. The silver used to plate the metal is usually sterling silver and it is plated by a process of electroplating. Depending on the quality of the product the thickness of the silver coating may differ from product to product. Silver-plating will wear off over time, but is an affordable alternative to sterling silver, which although it may tarnish over time (and this can be cleaned and brightened again), will last forever.
These Pinch Bails have the additional feature of a handy and attractively shaped loop for threading directly onto a beaded necklace or chain, with no extra need for other rings or attached findings to do so.
Overall Measurements Entire length is 17mm. Length of lower component is 8mm with an additional 3mm closed ring on it's top. Length of upper component is 5.25mm.
Inside Hole Measurements Lower component has a height clearance of 6mm. Upper component has space for a chain or beads that are 5.25mm height x 5mm depth maximum.
Prong Measurements 2mm length each prong
Colour Silver
Material Silver Plated Base Metal
Country of Origin People's Republic of China
Which Swarovski Pendants does this work well with? This bail works superbly with all the Art 6202 or Art 6228 Heart Pendants 14.4mm to 18mm and all the Art 6106 Pear Pendants to 28mm, plus most other Swarovski pendants up to 38mm and smaller.
Pack Size Options Choose your pack size from the drop-down box below